Kennedy Cites No Cash Bail as Dangerous to Public Safety and Will Cost County an Estimated $12 Million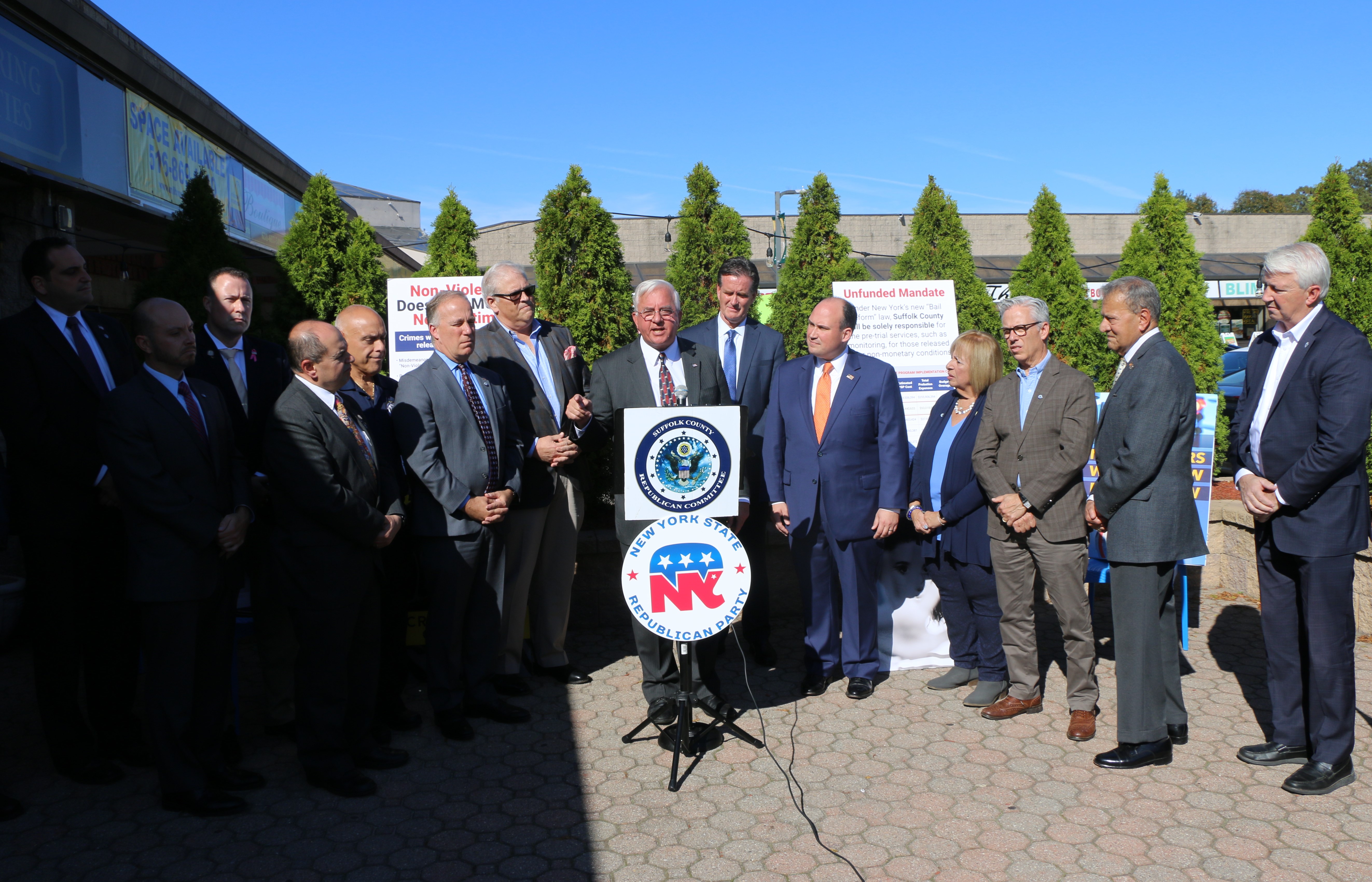 John Kennedy (standing behind podium) is joined by GOP elected officials during a press conference in Hauppauge on October 15.
John Kennedy joined in with state and county GOP legislators at a press conference on October 15 to assail the radical, left-wing agenda that was ratified by the Democrat-led state Senate during the state's legislative session. He also decried how the unfunded mandate for no cash bail is not only dangerous to Suffolk County residents, but the county is expected to lose $12 million in revenues, putting yet more strain on the county's precarious finances.
According to the Towson University Regional Economic Studies Institute, under the new law, those charged with the following crimes are released after being booked: misdemeanors and "non-violent" felonies; promoting an obscene sexual performance by a child; rape in the third degree; vehicular manslaughter; robbery and burglary in the third degree; illegal abortion; identity theft in the first degree; escape in the first and third degrees; sexual abuse and misconduct; criminal obstruction of breathing; stalking; bail jumping; criminal contempt (violating an order of protection); and desecration of a cemetery.
The Institute further found that the unfunded mandate will blow out the county's 2019 Probation Budget. With a budget of more than $39.5 million, the county will have to pay for pre-trial services, which will increase costs by 34%.
"No more support for cash bail, where felony burglars are going to be put back on the street!" Mr. Kennedy said. "We're not going to take it anymore."
He added that if a Republican county executive and a GOP majority are elected in the state Senate, "we're going to bring back what the citizens of this county deserve," adding, "On November 5, we will prevail."