Says Suffolk's Fiscal Crisis is Causing Residents to Flee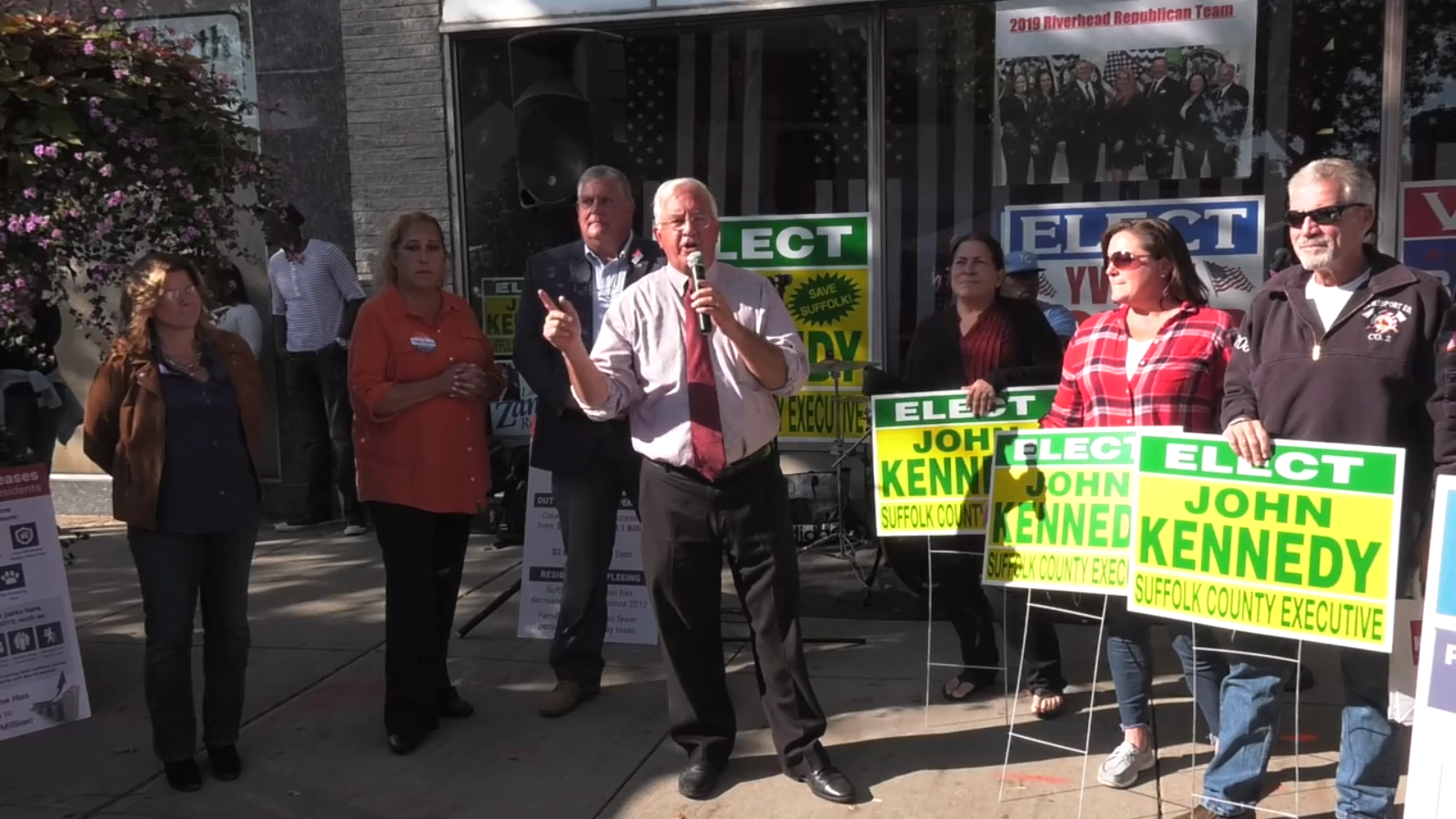 John Kennedy (center) speaks to attendees of the Riverhead Country Fair as part of his "Fiscal Reality Tour." He is joined by (left to right) Suffolk County Legislative candidate Linda Kabot, Riverhead Town Supervisor Candidate Yvette Aguiar, Riverhead Town Councilman Tim Hubbard, Suffolk County Legislator Leslie Kennedy, Riverhead Town Assessor Candidate Meredith Lapinski, and Riverhead Town Assessor Mason Haas.
Suffolk County Executive John Kennedy was joined by local elected officials and GOP candidates in front of the Riverhead Republican Committee headquarters during the annual Country Fair on October 13 in the fourth stop of his "Fiscal Reality Tour" as part of his campaign to #SaveSuffolk. Mr. Kennedy explained that, since Steve Bellone took office seven years ago, people have been fleeing Suffolk by the thousands because of the high fees and taxes.
Mr. Kennedy explained that, contrary to claims made by the County Executive, taxpayers have been burdened by enormous tax and fee increases under Steve Bellone, while, at the same time, the County has experienced seven bond downgrades and a fiscal crisis whereby it barely meets its obligation week by week.
Mr. Bellone's out-of-control spending has resulted in bloated payrolls and budgets. Despite the fact that the County's workforce has been reduced by nearly 1,000 workers, payroll has increased by over $100 million. At the same time, the budget has risen from $2.7 billion to $3.1 billion — an increase of almost 15%.
Poor fiscal mismanagement has driven enormous tax and fee increases. The property tax levy has increased from $532,765,964 in 2012 to $652,108,097 in 2019. That is an increase of $119,342,129, meaning that homeowners have seen a property tax increase of 22.4% over that time.
In addition, Suffolk taxpayers have been hit with across-the-board fee increases. These include the tax map verification fee, mortgage recording fee, residential/commercial burglar alarm fee, red-light camera fee, shopping bag fee, pet grooming fee and Department of Motor Vehicles registration fee. In addition, Mr. Bellone has hiked county park use fees every year since 2015 for camping, fishing, hunting, parking, group events and recreational permits. This disproportionately affects working-class Suffolk residents, including first-time homebuyers and those who rely on parks for recreational opportunities. In total, the Bellone administration has raised taxes and fees to the tune of $200 million.
Also exacerbating Suffolk's fiscal crisis is the reduction in population. The county's overall population has shrunk by 16,396 in the past seven years, leaving fewer taxpayers to bear a higher tax burden. "We have people fleeing Suffolk in droves because of this fiscal disaster caused by Steve Bellone and his reckless tax-and-spend policies," Mr. Kennedy said. "Mom and Dad are still here, but their children can't afford to live here and their grandparents can't afford to stay here. This exodus means current residents have to pay a greater share of taxes."